Monday, February 8 - Sunday, February 14
Together Festival
If you haven't heard of this yet, you're living under a rock. Boston's got the biggest bestest electronic festival going down this week. Tons of awesomeness like
DJ/Rupture
,
Sinden
,
Phantogram
, and
Neon Indian
happening all over the place but there's 3 events I'm especially looking forward to. First is
Tim Hecker
,
Mountains
, and
David Daniell
at the
Cambridge YMCA
on Thursday. Then there's the FREE chiptune showcase on Friday at
MassArt's
Pozen Center with
Animalstyle
,
Disasterpeace
,
Cathode Rays
,
Active Knowledge
,
Br1ght Pr1mate
, and
Radio Scotvoid
DJing with visuals and lasers from
VJ Beyonder
. And finally there's the
killer
BOWAAC
early (3pm) all ages Saturday show with
Big Digits
,
Truman Peyote
,
Coralcola
,
Many Mansions
, Wet Bandits (
Ryan Durkin
&
Evaredy
), and
Dutty Artz
for only 7 fucking dollars. Check out the full schedule
here
.
Major Stars
Monday, February 8
Major Stars, Fat Worm Of Error, Vile Bodies at Charlie's Kitchen (9:00, $5, 21+)
Psych punk noise insanity.
Monday, February 8
Sequoyah Leaf at Weirdo Records (8:00, donate, all ages)
I have no idea. Noise + clarinet? It's at Weirdo, that's all you need to know.
Brandon Terzakis
Tuesday, February 9
Brandon Terzakis at Cafe Fixe (8:00, donate, all ages)
One man drone dude will know you out with minimalism.
Wednesday, February 10
Ghost Grass and Retribution Body at Mobius (8:00, $10, all ages)
Organic electronic dronescapes to empty the useless shit filling your head.
The Beets by Nate via
Thursday, February 11
Christmas Island, The Beets, Beach Fossils, The Needy Visions, Maine Coons at The Cottage (8:00, donate, all ages)
The good kind of hipster stuff that's so good hipsters don't even know about it aka MAGIC FUN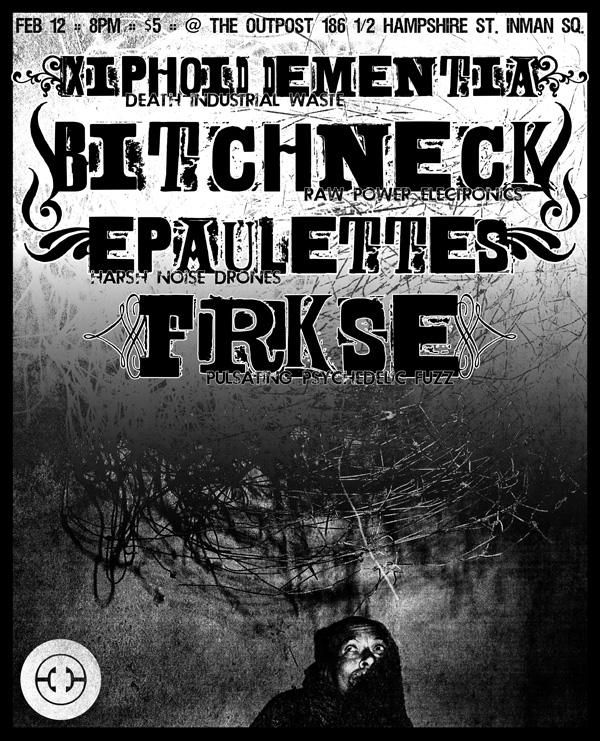 Friday, February 12
Xiphoid Dementia, Bitchneck, Epaulettes, FRKSE at Outpost 186 (8:00, $5, all ages)
NOISSSEEE. Lots of it. All different kinds.
Ununi, Gaetana Brown, I The Eye by Kelly Alsheimer via
Saturday, February 13
Alto Jeffro, Ununi, Gaetana Brown, I The Eye, Black Steel Peacock at Outpost 186 (8:00, $5, all ages)
Nice showcase with bands from
No More 60s
. You got acoustic punk nastiness, harsh noise, pleasant folk, weirdo electronics, and pretty much everything your fucked up heart could ever desire from a single show.