Lambs Laughter at Brainwaves 2008
Monday, April 27
Windy & Carl, Benoit Pioulard, Lambs Laughter at Oxfam Cafe
(FREEEEEE, 8:00, all ages)
I was psyched for this show only knowing that Windy & Carl were playing. But then I saw that Benoit Pioulard and Lambs Laughter were also on the bill and I almost fainted. Lambs Laughter is Windy & Thomas Meluch (of Benoit Pioulard) and I saw them play at Brainwaves last November and it was earth shattering. In a good way. Can't
wait
to see this show. Windy & Carl's first tour in 6 years.
Spectrum at ATP NY 08 via
Tuesday, April 28
Spectrum, Broken River Prophet, Ghost Box Orchestra at The Middle Easy Upstairs
($10, 8:00, 18+)
Spectrum is Sonic Boom from Spacemen 3. That's pretty much all you need to know. Unless you need proof. In which case I saw Spectrum play at ATP NY. It was amazing.
Buraka Som Sistema at SoCo Cargo via
Friday, May 1
Buraka Som Sistema, DJ Sega at Harper's Ferry
($10, 8:00, 18+)
PARTY TIME. BSS are slick and but you should already know that. Sega plays wicked tight breakbeat hip-hop stuff. Gonna be a good time. Guaranteed.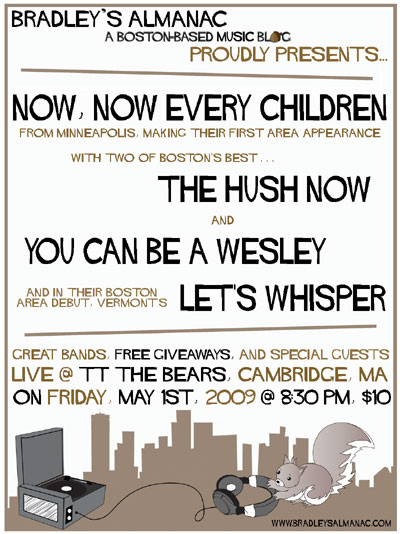 Friday, May 1
Now, Now Every Children; The Hush Now; You Can Be A Wesley; Let's Whisper at TT The Bear's
($10, 9:00, 18+)
This is the third week in a row in which a famous music blog has put on a show. First it was
Enough Cowbell
, then last week it was
Ryan's Smashing Life
, and now it's
Bradley's Almanac
. Brad brought in Now, Now Every Children all the way from Minneapolis to play their wonderful indie pop. Add Boston locals The Hush Now and You Can Be A Wesley to the bill with Vermont's Let's Whisper and you got yourself one helluva show. If you're leaning more towards the indie rock side of things instead of the dance party that will be Buraka Som Sistema (above) or the noise fest of Work/Death (below), then this is the place to be on May Day.
Friday, May 1
Work/Death, Pedestrian Deposit, Earn, Double Awake, Animal Steel, Luke Moldof at The Butcher Shoppe
($?, 8:00, all ages?)
Noise. Lots of it. Earn is Matt Sullivan of Privy Seals. Luke Moldof is in the super awesome
Perispirit
with Ricardo Donoso. The flyer says to wear an animal mask.
More info
.
Saturday, May 2
Tape Jazz, Powerlines, Shitshow, 1929 Till I Die, Planned Communities at The Westend Theater (Gloucester)
($7.00, 6:00, all ages)
If you're gonna be up north this weekend, perhaps it would be worth your time to head to The Westend Theater in Gloucester. It seems like some of the bands might not be all that great, but then there's Tape Jazz. They're from JP and make some weird ass noise that I like to listen to. Powerlines might be alright but there's no Myspace page or anything. And Black People may or may not be playing.